On 5th and 6th of May 2022 a coordination and D-EvA project meeting took place in Timisoara, Romania.
Fruitful discussions and brainstorming sessions took place among the partners of the project from HvA/DSS (Amsterdam, the Netherlands), UAB (Barcelona, Spain) and UVT (Timisoara, Romania).
Parallel to that, cesc 2022 International Conference in Communication, Education and Knowledge Society (5th edition) on Changing Landscapes in European Higher Education was hosted by UVT. Prof. Georgeta Ion, among other distinguished guests, was the keynote speaker.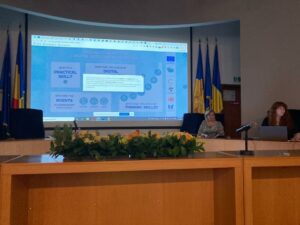 Furthermore, on the first day of the event D-EvA project partners took part in a multiplier event, where the outcomes of our work so far were presented to the local audience. Want to know more? Please sign up to our newsletter (the button in the footer) and follow us on Twitter!